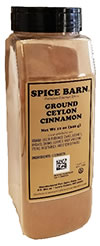 | | |
| --- | --- |
| Ground Ceylon Cinnamon Quart Container-12 oz $20.99 | |
Description: Ceylon Cinnamon comes from the island of Ceylon (Sri Lanka).  This is regarded as "real cinnamon".  This product is mainly used in Mexico, Central and South America.

Usage: Use in Puddings, Cakes, Cookies, Breads, Drinks, Curries, Meat and Game, Stews, Vegetables, and stewed Fruits.

Ingredients: Cinnamon.

Storage: Store in a cool dry place, away from heat, light, and humidity.