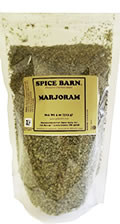 | | |
| --- | --- |
| Marjoram 4oz. Pouch $6.39 | |
Discounts begin at 5 Pouches. See below.
Discounts will be reflected in the cart.
| | |
| --- | --- |
| Bulk Quantity | |
| 5+ Pouches | 10% off Regular Price |
Description: An herb of the mint family with a pleasant aroma and warm taste.

Usage: Use sparingly in or on roast meat dishes, vegetables, stuffing, cheese and egg dishes, and fish sauces. Recipes for Marjoram

Ingredients: Dried Marjoram.

Storage: Store in a cool dry place, away from heat, light, and humidity.
Marjoram Recipes
(Scroll to view all)
 Herb Roasted Pork Tenderloin
1/4 cup soy sauce
1/4 cup Worcestershire sauce
1 1/4 cup vegetable oil
1 teaspoon Spice Barn Thyme
1 teaspoon Spice Barn Marjoram
1 teaspoon Spice Barn Rubbed Sage
1 teaspoon Spice Barn Garlic Powder
1 teaspoon Spice Barn Onion Powder
1 teaspoon Spice Barn Ground Ginger
1 teaspoon each:  salt and pepper
1 1/2 pounds pork tenderloins
Stir together first 11 ingredients in a shallow dish or zip lock bag.  Prick pork with a fork, and place in marinade, turning to coat.  Cover or seal; let stand at room temperature 30 minutes, or chill two hours.   Remove from marinade, discarding marinade.  Place pork on a rack in a roasting pan.  Bake at 350 degrees for 40 minutes or until a meat thermometer inserted into thickest portion registers 160 degrees.
Split Pea Soup
1 pound dry split peas
2 1/2 quarts water
1 meaty ham bone
1 1/2 cups chopped onion
1 cup each: diced celery, carrots and potatoes
1 teaspoon Spice Barn Parsley
1/2 teaspoon pepper
1/4 teaspoon Spice Barn Garlic Salt
1/4 teaspoon Spice Barn Marjoram
Place peas, water, and ham bone in stock pot; bring to boil.  Reduce heat; cover and simmer for 2 hours, stirring occasionally.  Stir in the remaining ingredients.   Bring to a boil.  Reduce heat; cover and simmer for 30 minutes.  Remove bone; and remove meat from the bone.  Chop ham and return to soup.